"You Don't Live There": Strategies for Educators of Color to Set and Maintain Healthy Boundaries
Prioritize your mental and emotional health

March 6, 1:00-2:30pm
Presenter: Jessy Molina, Molina Consulting
Audience: All who identify as teachers and staff of color

Toni Morrison recalls her father's advice about her first job: "Listen. You don't live there. You live here. With your people. Go to work. Get your money. And come on home." Many educators of color struggle to set clear and consistent boundaries with their personal and school life. Beyond the 24/7 nature of school life, educators of color may be held to higher standards than our white peers, our jobs are more precarious, and we may be burdened with additional, often uncompensated, roles. In addition, we tend to hold ourselves to high standards of excellence which adds to the mounting and ultimately unmanageable pressure. Join us to learn how to set and maintain boundaries to protect and prioritize your mental and emotional health.

Meet the Presenter:
Jessy Molina, Molina Consulting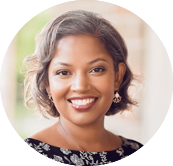 Jessy Molina is a nationally recognized trainer and facilitator on issues of diversity, equity, and social justice. Most recently, Jessy Molina served as the Director of Diversity, Equity, and Social Justice at Friends School of Baltimore. She has supported people to connect with one another and make social change through her work with the Ella Baker Center for Human Rights in San Francisco, the John Gardner Center for Youth and Their Communities at Stanford, Quality Education as a Constitutional Right, and Welcoming America. Prior to working at Friends, Jessy served as the Director of Diversity and Inclusion at Garrison Forest School. An experienced facilitator, Jessy has trained thousands of people at nonprofits, companies, law firms, schools, colleges and universities, and other institutions to recognize and dismantle bias, develop the language and courage to discuss race, create equitable policies and practices, explore the intersections of race, gender, class, sexuality, gender identity, religion, culture and more, and begin building a more just world. Jessy has also developed a model of facilitated dialogue that builds understanding and connection between people and communities who are divided by tension, conflict, and misunderstanding. She has facilitated meaningful dialogue in communities across the country on race and racism, immigration, the criminal justice system, public and private education, policing, ethics and values, and more. Jessy also trains others to facilitate courageous conversations and equity seminars in their communities and serves as a mentor for trainers and facilitators in the Baltimore/Washington D.C region. Jessy graduated from Harvard College and Yale Law School and lives in Baltimore with her husband, Michael, and two children.