Living Your Mission and Values
In this series, we have designed 8 programs centered on what we value in our schools. We are all mission-driven educational institutions and seek to provide a well-rounded experience for each and every student. The programs offered in this series include: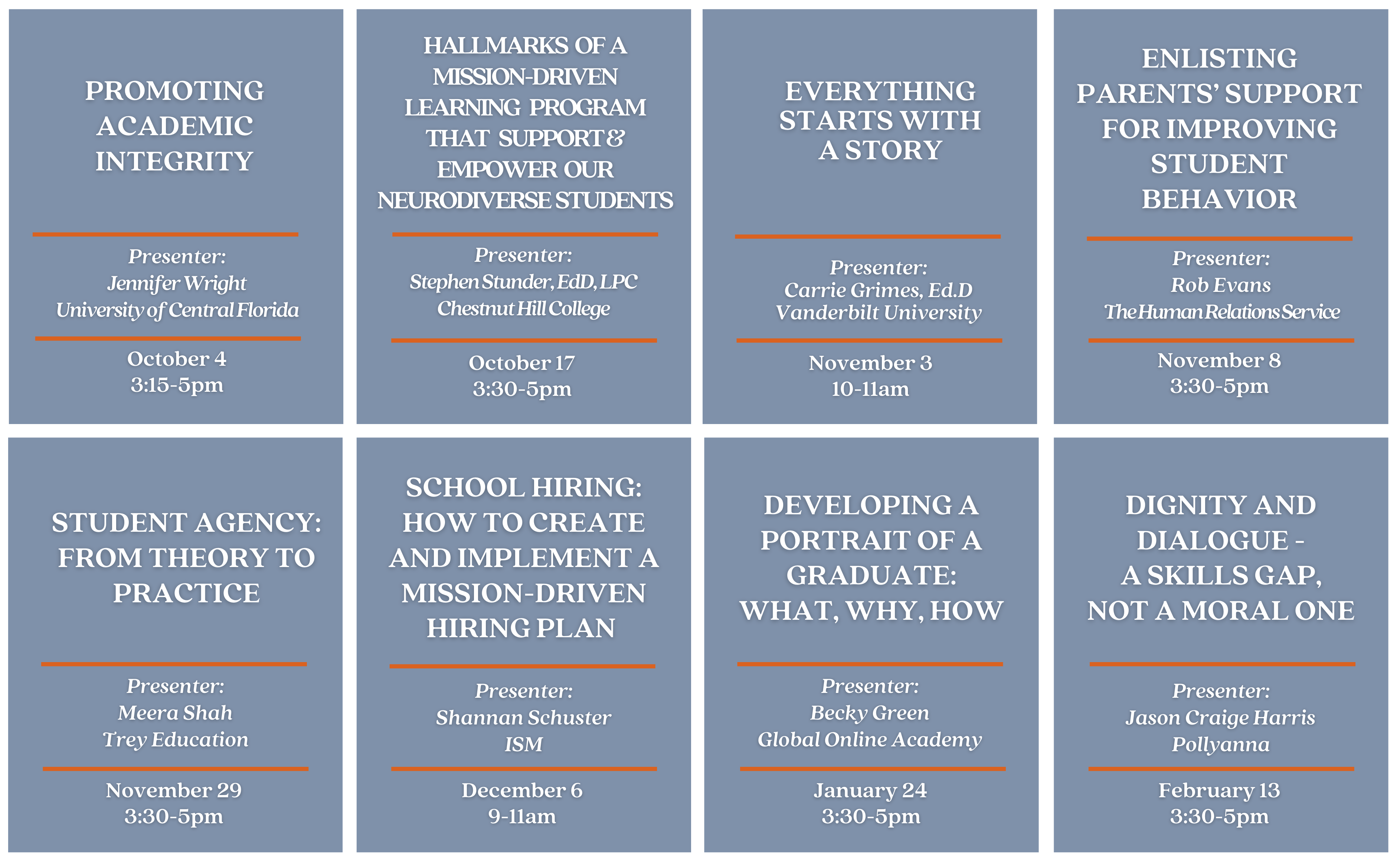 WHY SUBSCRIBE TO A SERIES?
As a member of the series, all educators and staff in your school may participate in all programs, which is a great cost savings to your school. Since all programs are virtual, there are no hidden transportation costs and participants may either engage live or view the recordings asynchronously. It's a great value to our member schools and provides easy access for colleagues to hear the same message, participation builds the PAIS community of learners, and you will meet presenters from the national scene. Schools that do not register for the series may have participants register for individual programs for $50 per participant, per program. Individual program registration will open in August 2023.

COST
$450 for schools less than 200 students, $650 for schools between 201-500 students, $850 for schools more than 500 students. Each school will select a point person for communication purposes and to serve as a liaison between the school and PAIS.





Registration is now open for individual webinars that are part of this series


---
INDIVIDUAL PROGRAM DETAILS:

---
PROMOTING ACADEMIC INTEGRITY
October 4, 2023, 3:15-5pm
Audience: MS and US teachers, Division Directors, Deans of Students

The perception of students who cheat on homework or on an exam is they are lazy, unmotivated, and don't care about grades. That may have been true in the past, but for today's students there are different factors contributing to their choice to commit academic misconduct. During this presentation, we will explore these factors and discuss alternative messaging to students to promote academic integrity and prevent academic misconduct.

Meet the Presenter: Jennifer Wright, Program Manager, Student Conduct and Academic Integrity, University of Central Florida


Jennifer Wright has served as Program Manager for the past 11 years in the office of Student Conduct and Academic Integrity at the University of Central Florida (UCF). In this capacity she is responsible for the promotion of academic integrity and prevention of academic misconduct. This includes investigating potential acts of academic misconduct, assisting in the adjudication process of academic misconduct cases, and providing educational sanctioning to students found in-violation of academic misconduct. She has facilitated numerous workshops and seminars to the campus community on topics such as academic integrity, ethical decision making, and professionalism. Jennifer is very active in the professional organization International Center for Academic Integrity (ICAI). She has presented at many ICAI conferences on educational sanctioning, developing academic integrity modules, how to get faculty to report academic misconduct, and how to design workshops to prevent academic misconduct from occurring.
Jennifer has been in higher education for over 20 years in the capacities of academic advising, learning support services, and TRIO programs. She served as Director of the Student Academic Resources Center at UCF, Tutor Coordinator at the University of Tennessee-Knoxville, and an Academic Advisor at Appalachian State University. She received her Associates in Applied Science Degree in Business Administration from the State University of New York at Cobleskill and then transferred to Appalachian State University where she received a Bachelor of Science in Business Administration with a concentration in Marketing. She continued at Appalachian State University and received her master's degree in Higher Education Administration.
---
HALLMARKS OF A MISSION-DRIVEN LEARNING PROGRAM THAT SUPPORTS AND EMPOWERS OUR NEURODIVERSE STUDENTS
Working from an asset model to support our neurodiverse students
October 17, 2023, 3:30-5pm
Audience: Division Directors, Learning Specialists, Counselors, teachers of children of all ages

This session will focus on how to utilize the strengths of Neurodiverse students in developing supports and strategies. Focusing on Mission, developing learning programs require a foundation of academic, social, and emotional supports – as well as a great deal of training and staff development. This session will detail how to create that foundation – through mission centered professional development, as well as learning to tailor your program to the individual students.
Takeaways will include:
- Developing foundational principles of learning needs based on institutional mission
- Creating a support structure grounded in academic, social, and emotional supports
- Crafting a support structure that involves faculty, support staff, students, and parents
- Professional development tools for teachers to support Neurodiverse students in the classroom
Meet the Presenter: Stephen Stunder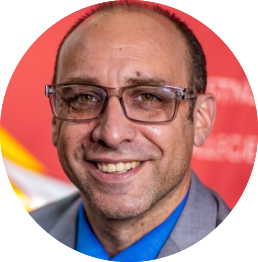 Dr. Stunder previously worked as the Director of Counseling at Holy Ghost Preparatory School. In addition to serving as the school's counselor, he was the Director of the Montgomery Scholars Program – which is a program for Holy Ghost students with learning differences. He has worked for several large mental health providers in the Philadelphia area - including Woods Services, Penndel Mental Health, Merakey, Aldie Counseling Center, and Melmark. Dr. Stunder has also taught in the Counseling Psychology Graduate Program at Rosemont College. Dr. Stunder is currently a Faculty Member in both the School of Graduate Studies, and the School of Undergraduate Studies at Chestnut Hill College – serving as Director of the Human Services Management Graduate Program, as well as Associate Director of the Master's in School Counseling Program.
Dr. Stunder's research has focused on the development of learning difference programming for independent secondary schools, as well as the development of curriculum for students with learning needs and adults with developmental disabilities. Dr. Stunder has worked to advance the supports for Neurodiverse students at Chestnut Hill College, and has presented at a number of National Conferences on this topic – including the College Autism Summit. He has published several articles on student achievement and teacher evaluation, as well as currently working on two textbooks – one on Human Services Management and one on working with Neurodiverse students in higher education.

---
EVERYTHING STARTS WITH A STORY

November 3, 2023, 10-11am
Audience: Board Members, Heads of School, Central Administrative Team, Division Directors, Middle Level Leaders
The stories we tell about our schools contribute to a broader narrative that ideally paints a compelling portrait of enduring value. However, many of our schools use traditions and heuristics to guide our storytelling, relying on the school calendar rather than the lived experiences which are unfolding in front of us every day inside of our schoolhouses. This workshop makes the case that a cohesive, scaffolded and strategic approach to our school's storytelling practice is a cornerstone of institutional advancement for independent schools, and that by a dedication to the science of storytelling, we have the capacity to connect stakeholders across generations, and motivate them to engage with our communities in a variety of impactful ways throughout their lifetime. The presentation will also explore critical considerations related to effective storytelling strategy, including authenticity of narrative, auditing of dominant narratives and peripheral narratives, the fine line between amplification and exploitation, and the emotional intelligence essential to skillfully curating and sharing testimonials.

Meet the Presenter: Carrie Grimes

Carrie Grimes is an Assistant Professor of the Practice in the LPO department and also serves as the Director of the Independent School Leadership Master's program. She completed her Ed.D. in Leadership and Learning in Organizations at Vanderbilt University, where her research focused on social identity and community of practice theoretical applications to school settings. Carrie's career has been centered in independent school leadership, including roles in administration, teaching, counseling, and institutional advancement in schools and programs in New York, California, and Maryland. Throughout her career, she has focused on community building, imaginative problem solving, and cross-team collaboration across a wide range of stakeholder groups including toddlers through adolescents, parents, adult learners, donors and alumni. Carrie has a B.A. in English from the University of Pennsylvania and a M.A. in Applied Psychology from New York University.
---
ENLISTING PARENTS' SUPPORT FOR IMPROVING STUDENT BEHAVIOR
November 8, 2023, 3:30-5pm
Audience: Administrators, Teachers

In response to the Pandemic, schools everywhere report a marked decline in students' work habits, attitudes, treatment of one another—and of faculty and staff. A similar decline is evident in parents' willingness to address these issues. At the situational level teachers need help in dealing with students and parents. At the strategic level the school needs to reassert itself and provide clarity on the behavior expectations that are in alignment with its mission and values. Rob Evans will outline ways to do both.

Meet the Presenter: Rob Evans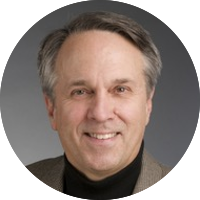 Dr. Rob Evans is a psychologist and school consultant. A former high school and pre-school teacher, and for many years a child and family therapist, he has consulted to more than 1,700 schools, public and private, throughout the U.S. and internationally, working with teachers, leaders, and boards.
Rob received his undergraduate degree from Princeton and his doctorate from Harvard. His particular interests are in leadership, in helping schools cope with change, in crisis intervention, and in improving collegiality and candor among educators.
He is the author of many articles and books. His newest, co-written with Michael Thompson, is Hopes and Fears: Working with Today's Independent School Parents. His others are: Seven Secrets of The Savvy School Leader, The Human Side of School Change, and Family Matters: How Schools Can Cope with The Crisis in Childrearing.

---
STUDENT AGENCY: FROM THEORY TO PRACTICE
November 29, 2023, 3:30-5pm
Audience: Grades 4-12 teachers, Associate Heads, Division Directors, Department Chairs

Many of our schools have student agency woven into the mission, vision, or portrait of a graduate. However, putting students in the driver seat of their learning requires deliberate practice from the instructional to the whole-school level. This 90-minute interactive workshop will explore student agency from a theoretical framework (why it matters), different levels of practice (from instructional moves to unit design to course of study to school-wide programs), practical angles (examples of practice), and cultural considerations and challenges. In addition to in-session engagement and sharing, participants will be invited to conduct an audit of their classroom, curriculum, or school programs through the lens of student agency. While educators of all grade levels will benefit from the session, framing and examples will draw mostly from middle and upper school cases.

Meet the Presenter: Meera Shah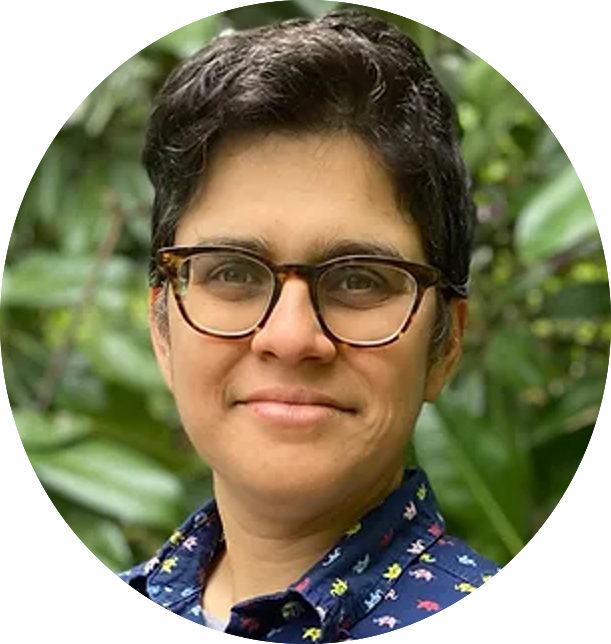 Meera is a teacher of teachers. Over the last two decades as an independent school educator and academic leader, she's coached and mentored early-career teachers, overseen the professional growth of faculty at the department and all-school level, and shepherded curricular and programmatic change in schools. Meera approaches her work with the belief that change, growth, and empowerment are intertwined, and thus prioritizes authentic relationships and collaboration in her work.
Sc.B., Biomedical Engineering, Brown University
Ed.M., Learning & Teaching, Harvard Graduate School of Education

---
SCHOOL HIRING: HOW TO CREATE AND IMPLEMENT A MISSION-DRIVEN HIRING PLAN
December 6, 2023, 9-11am
Audience: HOS, Associate Heads, Division Directors, Development Directors, CFO's, Admissions Directors, other administrators

The right hires will make or break your school's ability to deliver your mission. But if you only start to think about your hiring process when you have an open spot to fill, you're missing out on crucial, strategic opportunities.

Hiring can be time-consuming, expensive, and frustrating if done incorrectly. The problems are compounded if your team does not have any formal training in the hiring process.

This online workshop will help you develop and outline an ongoing, strategic, and mission-driven hiring plan for all school employees. You'll learn how to create interview questions and performance requirements, as well as develop a system that identifies strategic skill needs and fulfills your hiring initiatives. You'll leave this online workshop with a plan in hand to improve your hiring process right away.

Meeting the Presenter: Shannan Shuster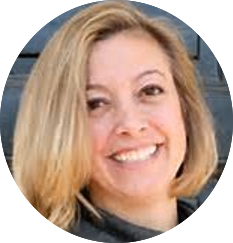 As an ISM consultant, Shannan shares her expertise in school management, Board/Head relations, hiring, scheduling and new head of school support. She worked in public, private and independent schools for 25 years before joining ISM in 2020.
Shannan previously served as Head of a PAIS school, The Swain School, PA and she was Assistant Head Friends' Central School, PA, and the Dean of Faculty at Flint Hill School, VA. In addition to working in K-12 schools, Shannan has also served as an adjunct faculty member at The University of Virginia and a presenter at conferences and workshops across North America on various topics.
Shannan earned her Doctorate of Education at The University of Virginia, and her master's degree in Private School Leadership at The Klingenstein Center, Columbia University, Shannan's two bachelor's degrees are in Mathematics and Secondary Education from Vanderbilt University.

---
DEVELOPING A PORTRAIT OF A GRADUATE: WHAT, WHY, HOW
January 24, 2024, 3:30-5pm
Audience: All Administrators, Staff, and Teachers

Portraits of a Graduate are a way to focus your community on the development of skills and habits of mind that matter in school and beyond. Portraits help clarify what we want students to learn and why we are committing to personalized pathways that ensure all students reach those goals. Developing a Portrait is a process that can coalesce a community around a shared purpose that prioritizes important, relevant skills and mindsets that matter to students' futures. In this interactive session, we'll explore what Portraits can look like, why schools create them, and how they use them. We'll also introduce a replicable framework for those educators who want to lead this process in their own communities. Participants will leave with practical strategies for crafting a rationale and an inclusive design process for developing a Portrait for their schools.

Meet the Presenter: Becky Green, Director of Professional Learning, Global Online Academy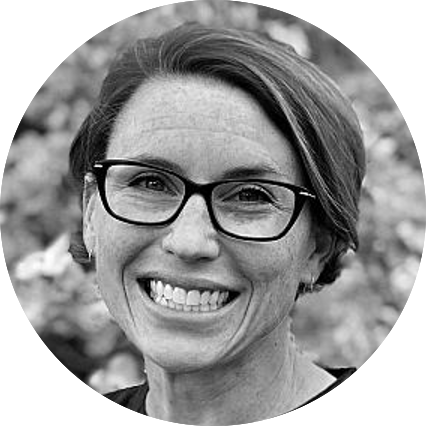 Before leading GOA's professional learning team, Becky spent two decades in schools teaching, coaching, and facilitating across divisions, subjects, and continents. She has learned from students and educators in Washington State public schools, independent schools in Cambodia and Singapore, and GOA's student program. She cares deeply about ensuring students thrive beyond school, and whether it's working with a school transitioning to competency-based learning or supporting online learning design, Becky prioritizes joyful, relational, student-centered experiences. At home, you can find her drawing in her sketchbook and hiking local trails near the pear farm she shares with her husband and son in Washington State, USA.

---
DIGNITY AND DIALOGUE - A SKILLS GAP, NOT A MORAL ONE
February 13, 2024, 3:30-5pm
Audience: All Administrators, Staff, and Teachers. Upper School students are welcome.

The wider culture has spun differences into divisions, opinions into oppositions, and perspectives into polarizations. Unless we agree, we don't seem able to speak with one another in thoughtful, dignified ways. And so the distance between us has grown, prejudice simmering just below the surface too often escalating into hate. This culture of toxicity has made its ways into our school communities where we––students, teachers, staff, parents/caregivers––dismiss, exclude, suppress, and shout. The pandemic has further eroded our connections and skills for holding space for one another and sitting with tension. We desperately need to recommit ourselves to upholding each other's dignity and to exploring practices to promote dignified dialogue in our advisories, classrooms, faculty meetings, and parents/caregiver conversations.
In this workshop, participants will:
- Examine the culture of toxicity and how it creeps into school communities
- Explore the concepts of dignity, compassion, and belonging
- Mine insights from fields like conflict resolution, indigenous peacemaking, restorative justice, dialogue facilitation, and social psychology

Meet the Presenter: Jason Craige Harris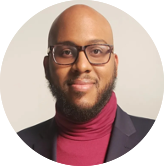 Jason Craige Harris is a voice for healing and transformation. He works in a variety of contexts, with a range of age groups, and across sectors to promote cultures of dignity, belonging, and accountability. He brings together insights from diverse fields as a coach, writer, educator, researcher, and storyteller. Jason specializes in inclusion strategies, organizational management, conflict mediation, restorative justice, and leadership development. He regularly advises leaders on how to solve big problems and pursue lasting change.
Jason is a consultant with Pollyanna as well as the managing partner of a global consulting firm. He is also the Social Impact Producer for IndieFlix's latest film on race and mental health, Race To Be Human. Previously, Jason was the director of diversity and inclusion at a NYC independent school, where he co-led the school's peace, equity, and justice department, and taught courses at the intersection of ethics, history, and religion. Jason sits on the boards of Seeds of Peace, Hidden Water, and Getting to We. He is also a member of the advisory board of the Institute for Teaching Diversity and Social Justice.